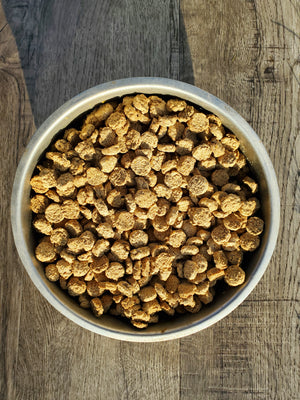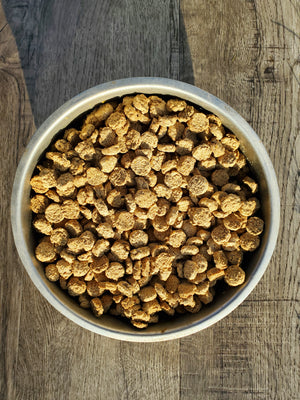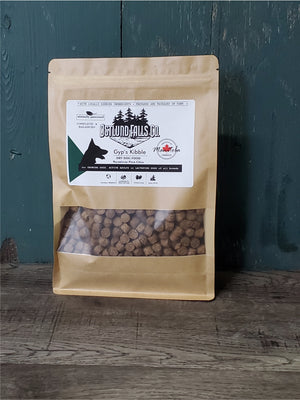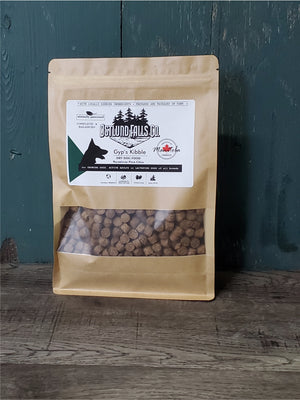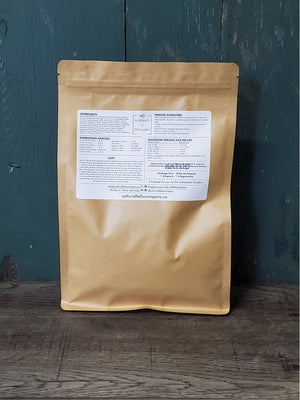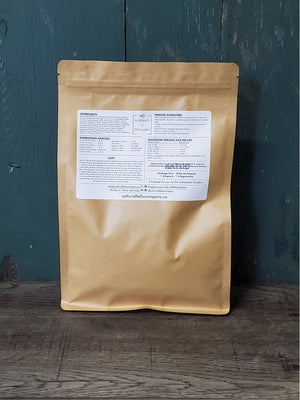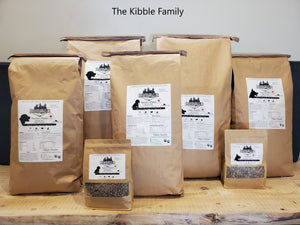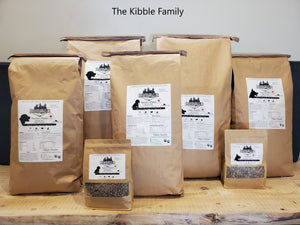 On Sale
Gyp's Kibble - High Protein Adult Dry Dog Food
Free delivery for select areas in Manitoba, including Winnipeg, Portage, and Brandon (with minimum $95 order). Contact us for more details.
Feed this high protein dry dog food (kibble) to your furry friend of any breed as their sole ration or mix in Ostlund Falls Co's meatballs snacks for an extra treat. We know the ingredients are of high quality because we grow most of them on our farm and see first-hand that healthy soils produce nutritious, flavourful ingredients for our pets. Top grade wheat and golden yellow corn are staples on our farm. Formulated to meet or exceed the stringent specifications of AAFCO, this kibble is all your pet needs to maintain his / her active, energetic lifestyle, as well as the needs of a growing canine or lactating mother.

We have not only included all the essential ingredients, but we have also added farm fresh eggs, locally grown carrots, and other fruits and vegetables. Combine these ingredients with the flavorful animal proteins and healthy energy sources, and even the fussiest eater is sure to love them! All our kibble is minimally processed in small batches without by-products or fillers. We never add artificial flavours, colouring, or preservatives. Once your companion has tried our products, they will never be truly happy with other food. Repay their affection with wholesome farm goodness!
For more information please read the following:
Product Sheet and Feeding Instructions (printable)
GYP'S STORY
Gyp is a red and white Australian Shepherd dog that loves people and children. Full of energy, she loves playing fetch with her Frisbee. Thinking it is her job to keep all local squirrels treed, Gyp leaps high in the air to tries to reach them. She is very gentle with lambs, chickens and chicks. Snakes are fair game tho, and she has become an avid snake destroyer, her thankful human reports. When the door of the small, white Toyota pickup opens, she is the first one in, ready to go. She is a polite little lady when dining, usually only eating when her humans aren't watching. Or when offered a treat, she daintily takes it in her lips, hides it for later and returns for attention. Every evening, she does a patrol of the Kansas farm where she lives, then curls up on the doormat with her three cat friends for the night.
Ingredients: Spring Wheat, Yellow Corn, Beef Meat Meal, Soybean Meal, Menhaden Fishmeal, Soybean Oil, Fresh Eggs, Carrots, Fruits and Vegetables, Salt, Choline, Wheat Midds, Manganese Oxide, Calcium Carbonate, Zinc Oxide, Ferrous Sulphate, Ronozyme Multigrain, Vitamin E, Niacin, Copper Sulfate, d-Calcium Pantothenic Acid, Menadione Sodium Bisulfite Complex, Riboflavin, Ronozyme HiPhos, Vitamin D3, Vitamin A, Sodium Selenite, Mineral Oil, Pyridoxine Hydrochloride, Thiamine Mononitrate, Calcium Iodate, Biotin, Vitamin B12, and Folic Acid