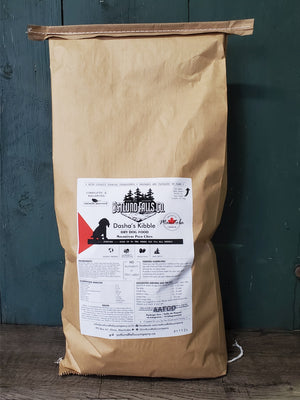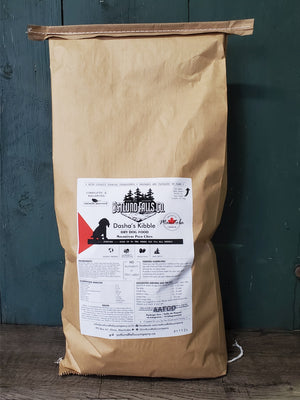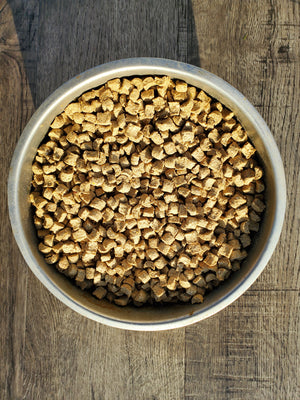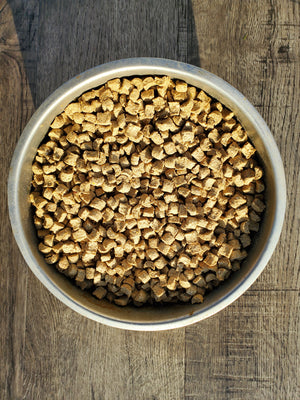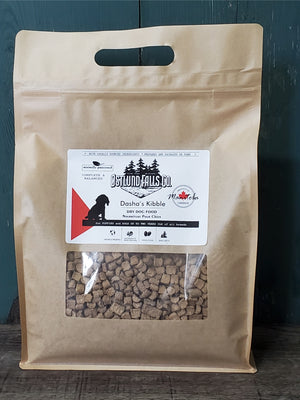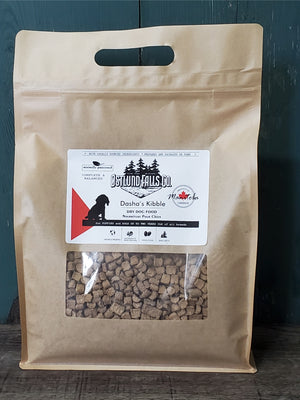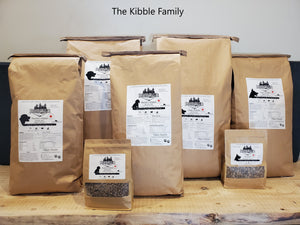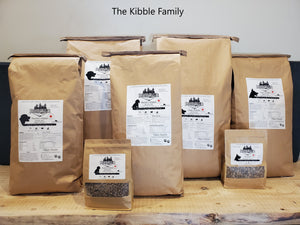 On Sale
Dasha's Kibble - Dry Puppy Food
Free delivery for select areas in Manitoba, including Winnipeg, Portage, and Brandon (with minimum $95 order). Contact us for more details.
Feed this dry puppy food (kibble) to your furry friend of any breed as their sole ration or mix in Ostlund Falls Co's meatballs snacks for an extra treat. We know the ingredients are of high quality because we grow most of them on our farm and see first-hand that healthy soils produce nutritious, flavourful ingredients for our pets. Top grade wheat and golden yellow corn are staples on our farm. Formulated to meet or exceed the stringent specifications of AAFCO, this kibble is all your pet needs to grow to be healthy and strong. Start feeding Dasha's Kibble as early as 3 weeks old. It is recommended to moisten with water up to at least 6 weeks of age. This can be fed until they are 2 years old. Or start transitioning them to Gyp's Kibble by the time they are a year old.

We have not only included all the essential ingredients, but we have also added farm fresh eggs, locally grown carrots, and other fruits and vegetables. Combine these ingredients with the flavorful animal proteins and healthy energy sources, and even the fussiest eater is sure to love them! All our kibble is minimally processed in small batches without by-products or fillers. We never add artificial flavours, colouring, or preservatives. We are confident that, just like their mother, your young furballs will love this easily digestible canine food.
For more information please read the following:
Product Sheet and Feeding Instructions (printable)
DASHA'S STORY
Dasha, a Chesapeake Bay Retriever pup, is a bouncing cutie of mostly floppy ears, feet and a very chubby belly. Born among a litter of eight, she is one of the three that survived the thieving coyotes that haunted the farm. She is much loved by her humans and it's reciprocated. Cuddled up for a nap, playing soccer, tussling on the grass, playing tug of war, chewing up things she shouldn't, making messes, looking incredibly cute, Dasha is the classic, lovable puppy.
Ingredients: Spring Wheat, Yellow Corn, Beef Meat Meal, Soybean Meal, Menhaden Fishmeal, Soybean Oil, Fresh Eggs, Carrots, Fruits and Vegetables, Salt, Choline, Wheat Midds, Manganese Oxide, Calcium Carbonate, Zinc Oxide, Ferrous Sulphate, Ronozyme Multigrain, Vitamin E, Niacin, Copper Sulfate, d-Calcium Pantothenic Acid, Menadione Sodium Bisulfite Complex, Riboflavin, Ronozyme HiPhos, Vitamin D3, Vitamin A, Sodium Selenite, Mineral Oil, Pyridoxine Hydrochloride, Thiamine Mononitrate, Calcium Iodate, Biotin, Vitamin B12, and Folic Acid